Philo offers a wide selection of channels, but you may be wondering what the Philo channel list might look like. You can get 70+ channels (as of the time of writing) through Philo making the full Philo channel list incredibly strong for the low price, although there are some limitations if you're a sports fan or want local broadcast networks.
We've also created a free channel schedule for Philo that you can use to learn what's playing on any Philo channel.
What is Philo? Philo service breakdown
Philo is a "skinny bundle" internet TV streaming service. This small startup streaming service started offering its low-cost channel packages in fall 2017. Since then, the service has added quite a few customers and enjoyed major investments from content providers.
Philo's primary goal is to provide entertainment TV options for the lowest possible cost. As of the time of this writing, Philo provides one streaming service package: a 70+ channel package.
There are no hidden fees, and unlike most of its competitors on the market, there are a few very affordable available add-ons. That means that Philo is one of the most affordable and flexible streaming services on the market.
The complete Philo channels list
Despite its low cost, Philo offers an extensive channel list to its subscribers. As stated, there's just one subscription package.
Philo channel package
Catchy Comedy
Crime + Investigation
Deck the Hallmark
Fetv
GAC Living
H&I
Magnolia Network
Nicktoons
Start TV
Story Television
They also offer a handful of free channels in addition to these 71 that you pay for. These channels include:
Bloomberg Television
Cheddar News
Crackle
Gusto TV
PlayersTV
pocket.watch
Revry
Ryan and Friends
Live & On-Demand.
Unlimited DVR.
Starting at $25/mo
Watch Free →
Watch Free →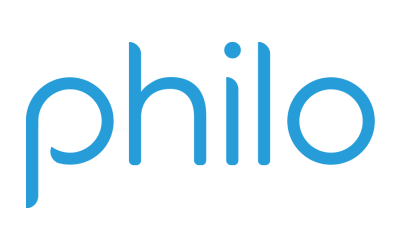 Does Philo offer movie channels?
Yes, Philo does offer some movie channels. Several movie channels are available in the core package. Philo also now offers an Epix channel add-on, a Movies & More channel add-on, and a Starz channel add-on, each of which comes with it's own set of channels:
Epix Channel Add-On Package
Starz Channel Add-On Package
Starz
Starz Encore
Starz Kids & Family
Movies & More Add-On Package
Cinemoi
HDNet Movies
MGM HD
Reelz
Sony Movies
Max and Showtime are not available on Philo.
A few of the dedicated movie channels on Philo are AMC, Paramount Network, and Lifetime Movies, as well as Hallmark Movies & Mysteries, IFC, and Sundance TV. You may find also find movies available on occasion from other networks Philo offers, such as BBC America and Comedy Central, and other cable networks.
Are there sports channels on Philo?
You will not find any sports available on Philo. The only sports-adjacent network available is Velocity, which occasionally shows motorsport competitions. However, the Paramount Network does feature occasional Bellator MMA matches. And if you consider robot fighting a sport, Discovery Channel features the increasingly-popular Battlebots program.
We go into more detail about this below. However, Philo is primarily focused on providing entertainment channels with a few news and lifestyle channels thrown into the mix.
What are Philo's features?
Philo may have some potential users on the fence about signing up, especially given the lack of sports and movie channels. To help sweeten the deal a bit, Philo has fairly generous additional features that might make it a worthwhile subscription for some cord-cutters.
Simultaneous streams
Most cord-cutting services let you stream live and on-demand TV on more than one device, and some are more generous than others. Philo is one of the more generous internet TV services. You can stream on up to 3 devices at a time with the same account.
By comparison, Sling TV only allows for 1 simultaneous stream with Sling TV Orange (although there are 3 allowed if you go with Sling TV Blue).
Sports-centric streaming service fuboTV (the polar opposite to Philo) and Hulu with Live TV only offer 2 simultaneous streams without any additional cost. However, YouTube TV allows users to stream on 3 devices at a time per account.
That said, Philo doesn't have the absolute best simultaneous streaming policy. For anyone who needs as many simultaneous streams as possible, DirecTV Stream is the best option (they allow you up to 20 devices at once).
That being said, several of those streaming services do allow you to purchase an add-on that gives you access to stream on more devices, sometimes as many devices as you want, so long as they're all connected to your home network.
Supported devices
Source: Philo
You can use Philo on a growing number of devices. At present, Philo can be streamed on all the following devices:
Apple TV (4th generation or later)
Roku (all current models)
Android TV (5.0 or higher)
Amazon Fire TV (all models)
Chromecast (2nd generation or later)
iOS devices (14.0 or higher), such as the iPhone or iPad
Android devices (5.0 or higher)
Fire tablet (OS 5.0 or higher)
You can also watch Philo online through a web browser on your Windows or Mac computer. However, there are still no smart TV apps available, and there are no apps for popular gaming devices. Philo does have an Android app and is on Android TV.
DVR
Source: Philo
Philo technically offers an unlimited DVR. Using "Saved shows", you can record any show, either live or scheduled, for later playback, and you can keep your shows for up to 30 days.
On-demand options
Supplementing its DVR feature, Philo also provides over 60,000 titles to watch on-demand from different TV shows and networks. You can also use Philo's 72-hour rewind option, which lets you watch any TV show or live program within 72 hours after it's aired, even if you never saved it to your DVR.
Individual network sign-ins (TV Everywhere)
Because Philo is a legitimate streaming option, that means you can log in separately to any app available from networks offered through the service.
For example, you can go to the Discovery website, log in with your Philo account, and watch on-demand shows and live TV.
This not only allows you to bypass simultaneous device limits but gives you access to different shows and episodes you may have missed or that may have expired from your DVR.
A Philo mini-review
At Flixed, we love to test out the services we recommend, and some of them are services we like to stick with. I've been a Philo user for several months, as it's a service that made sense for my interests.
After several months of use and playing around with its channel options and features, I can say that there are several great things about the service – and some that you probably won't like. That's true of any service, of course, but here are the high-level summaries of Philo's positives and negatives.
You can read an in-depth review of Philo here.
The good: Extremely low-cost service with good channels
Philo is perhaps the best low-cost streaming service on the market for anyone who just needs entertainment TV, and it currently has no real competitors in its price range.
For those who really want to save money on their cord-cutting efforts and who need a fully legitimate service with well-known and popular channels, Philo is a good buy.
Additionally, the 30-day DVR may sound limiting, but I've rarely experienced a situation where there's a show or recording I wanted beyond that length of time anyway. The on-demand recordings have served me well, and when an episode I wanted to watch was no longer available on Philo, it's easy enough for me to log into the different networks' apps and grab the content from there.
As for streaming quality, Philo has almost never let me down. On rare occasions, I hit slowdowns and buffering, but I attribute those to the very regular network congestion I get in my area during peak internet usage hours.
Source: Philo
One of the best parts of Philo is its easy-to-use interface. Philo may be underrated on this end. The service has a slick layout that makes it easy to find what you want with almost no hassle or confusion.
The bad: Limited news, no local TV, and lack of add-ons
Interestingly enough, the best things about Philo are also what might turn off many users to the service. Philo's cheap price comes at the expense of having no sports channels at all. Not even one. This is because licensing fees for sports channels are expensive.
That's not to say that you won't find the occasional sporting event on Philo. Some of the channels they offer, such as Paramount Network, do cover some sports on occasion.
Related: The Complete List of Sports Streaming Services - 100+ Services
By comparison, Sling TV offers ESPN as a featured channel for the Sling TV Orange service package. That means a good portion of your subscription goes to licensing ESPN's channels. And because that package makes ESPN access the primary focus, Sling TV only offers 30 channels in that package to save on costs and keep the price low.
Philo also saves on costs by limiting the number of news channels available. You can get access to technology and tech news service Cheddar, as well as Cheddar Big News. Philo also offers BBC World News alongside BBC America. Beyond those options, there are no major news channels, such as CNN, Fox News, or MSNBC, to name a few.
You also won't get access to local TV through Philo, and as such, you don't get major broadcast networks like ABC, CBS, NBC, Fox, or other channels traditionally available for free over-the-air. As such, Philo is indeed one of the slimmest streaming services on the market, making it a niche service in its own right.
Other great streaming services
Does Philo have everything you need? If not, you may want to consider signing up for Disney+ for more on-demand content only available from Disney, Hulu+Live TV for better access to local channels and major sports networks, or ESPN+ for access to unique and exclusive sporting events, like UFC and MLS.
Sam Cook • Author
Sam Cook is a full-time content strategist by day, a part-time freelance content writer since 2015. In another life, he was a high school English teacher for nearly a decade. Based in sunny New Orleans, he writes long-form educational content on technology, including Insurtech, Fintech, HRtech, and content streaming.
Lisa Holden • Editor
Lisa Holden is an editor and creative based in Houston, TX. Lisa holds a BA in African-American Studies from Temple University and has spent her career working in news publications and magazines, even founding a magazine herself. She began working as an editor for Flixed in 2023. When she's not editing or working on one of her many creative endeavors (whenever that is), she enjoys traveling to new places and biking on sunny days.