Want to try out Philo, and see if this unique, sports-free internet TV service is right for you? Not sure what Philo packages are available? How much does Philo cost? We'll answer all of these questions and take a look at the details about Philo plans and pricing in this article. Let's get started now.
Philo plans and pricing
Source: Philo
Philo provides customers with one plan, as you can see below:
Let's take a look at this Philo package in-depth now, and discuss which one may be right for you. For more information about pricing, take a look at our article about Philo's cost.
Philo standard package
Philo comes with a total of 60+ channels, including:
A&E
AccuWeather Network
Bloomberg Television
AMC
American Heroes Channel
Animal Planet
aspireTV
AXS TV
BBC America
BBC World News
BET
BET Her
CLEO TV
Cheddar News
Crackle
CMT
Comedy Central
Cooking Channel
Crime + Investigation
Decades
Destination America
Discovery Channel
Discovery Family
Discovery Life
Food Network
FYI
G4
Game Show Network
getTV
Great American Family
Great American Living
Gusto TV
Hallmark Channel
Hallmark Drama
Hallmark Movies & Mysteries
Heroes & Icons
HGTV
History
IFC
INSP
Investigation Discovery
Kin
Law&Crime
Lifetime
LMN
Logo
Magnolia Network
MeTV
Motor Trend
MTV
MTV Classic
MTV Live
MTV2
Nick Jr.
Nickelodeon
Nicktoons
Oprah Winfrey Network
Paramount Network
PeopleTV
PlayersTV
Pocket.watch
REVOLT
Revry
Ryan & Friends
Science Channel
Start TV
Story Television
Sundance TV
Tastemade
TeenNick
TLC
Travel Channel
TV Land
TV One
UPtv
VH1
Vice
WE tv
Live & On-Demand.
Unlimited DVR.
Starting at $25/mo
Watch Free →
Watch Free →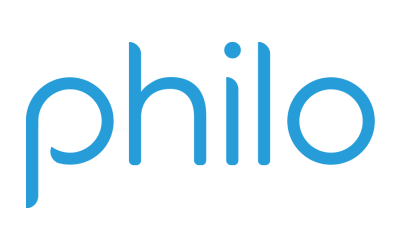 Channel add-ons
As of June 2020, you can add Starz and MGM+ as additional channels with Philo, with an additional charge per month.
You're out of luck if you want to watch content from networks like Showtime and Max. There's no option to subscribe to those networks on Philo.
Philo may be right for you if you mostly watch entertainment and lifestyle channels. However, if you want local news, sports and other channels not offered by Philo, you may be better off with a different package.
When was the last time Philo raised its prices?
Philo's last price increase was on June 8, 2021. At this time, the price for new subscribers jumped from $20 to the new monthly price of $25. As part of this price increase, though, all new $25/month users got access to a free, unlimited 12-month DVR service.
Before this, Philo had technically never raised its prices. When it launched, it offered both a $16/month plan and a $20/month plan. However, it eliminated the $16/month plan in early 2019. After this, everyone had to subscribe to the new plan.
Given the fact that its last price hike was so recent, it's unlikely that Philo's cost will jump in price in the near future, so you probably won't have to worry about any additional cost increases any time soon.
Does Philo have extra hidden fees?
No. Unlike a traditional cable subscription, there are no surprises when it comes to subscribing to Philo. You won't ever have to pay any fees for things like equipment and installation, and there are no penalties or fees for canceling your subscription. You will only ever pay for the cost of the service, with absolutely no hidden fees or other costs and penalties.
What's on Philo?
Wondering what you can watch on Philo? With the Flixed TV Guide for Philo, you can get a preview of what's on every channel, and view the content that's airing up to 7 days in the future. Give this ad-free TV guide a shot now, and see what's on Philo!
Wondering if Philo is right for you? Check out our Philo review to get all the details, and to see if you should subscribe.
Are there any good alternatives to Philo?
If you're looking for a low-cost way to watch cable channels but you also need some sports coverage and live news, Sling TV is probably your best bet. You can check out our head-to-head comparison of Philo vs. Sling TV here.
Or, if you're looking for a few more options, we've also put together a guide to a few of Philo's other top competitors including Fubo, Hulu + Live TV, DirecTV Stream, and YouTube TV. Check it out below:
Does Philo offer a free trial for new users?
Yes. If you're a new user, you can get a free 7-day trial of Philo. In addition, you can even sign up and use the service for a few days before you have to enter your credit card details.
After 48 hours, though, you'll need to enter your card details to unlock the remaining 5 days of your free trial. However, you won't be charged as long as you cancel before your trial ends.
Eric Liston • Author
Eric Liston is a content writer based in Columbus, Ohio. Since 2015, he's been writing about technology, cord-cutting, and helping everyday people save money. He also has expertise writing about medicine, dentistry, insurance, and a variety of other industries. No matter what he's writing, his focus is always on simplifying complex concepts and making them approachable for everyone. When he's not slamming away on his keyboard at his home office, you'll find Eric reading sci-fi novels, improving his disc golf game (he just hit his first 400-foot drive) and playing video games on his gaming PC.
Lisa Holden • Editor
Lisa Holden is an editor and creative based in Houston, TX. Lisa holds a BA in African-American Studies from Temple University and has spent her career working in news publications and magazines, even founding a magazine herself. She began working as an editor for Flixed in 2023. When she's not editing or working on one of her many creative endeavors (whenever that is), she enjoys traveling to new places and biking on sunny days.