So you want to know where you can watch all the best cartoons online, streaming, for free?  Well, you've come to the right place. Read on for a brief introduction into the wonderful and rapidly growing world of cartoons and animes, as well as our picks for the top 5 websites to stream anime and cartoons for free. If you'd like to skip straight to the list of websites, simple skip ahead using the table of contents below.
The Growing World of Cartoons
Before jumping into our list we must take note that not all shows are made equal.  Therefore, not every cartoon/anime aficionado is looking for the same shows.  Both genres have become very vast with as many different kinds of characters as there are imaginary friends in Foster's Home for Imaginary Friends.  Sometimes cartoons and animes are vapid and other times they are witty and politically charged.  And gone are the days of these genres being reserved only for children.
However, those certainly still get a large demographic of viewers.  Cloudy with a Chance of Meatballs is a new cartoon spinoff from the movies and books, geared toward kids, on Cartoon Network.  But growing numbers of adults watch cartoons geared specifically toward a mature audience. These cartoons include the likes of Archer, South Park, Rick and Morty, or Samurai Champloo.  Archer's Season Four premiere was met with 1.6 million viewers.  Samurai Jack's fifth season is blending younger and older audiences.  It received great ratings on Rotten Tomatoes, with the critics consensus stating that "an increasing intensity and maturity are evident in Samurai Jack's beautifully animated, action-packed, and overall compelling fifth season".
We also can't leave out anime, which has its own pull of demand, even though it is a niche market.  Shows like Attack on Titan have succeeded in pulling from beyond typical anime demographics, reaching a much wider audience in North America.
So what is the best streaming service to get the best cartoon and anime experiences, for free?  This list will include the top five streaming services you'll want to look at, with the best being at the top.  But the "best" might be a little subjective here, depending on the shows you're seeking after.
Spoiler alert, we've got a great streaming service for anime fans.*
Factors considered for this list will include whether or not the right channels are available, reviews, and device compatibility.  Take note that for several of the reviews we looked to aggregated ratings on Amazon and elsewhere in order to represent a holistic view of user experiences.
For the shows listed above, you're going to want access to Fox, Comedy Central, Cartoon Network, and Adult swim primarily.  Bear in mind these are all legal streaming services and not the kind found in the illegal underground of the internet.
Top 5 Streaming Services for Watching Anime and Cartoons
1. Adult Swim Videos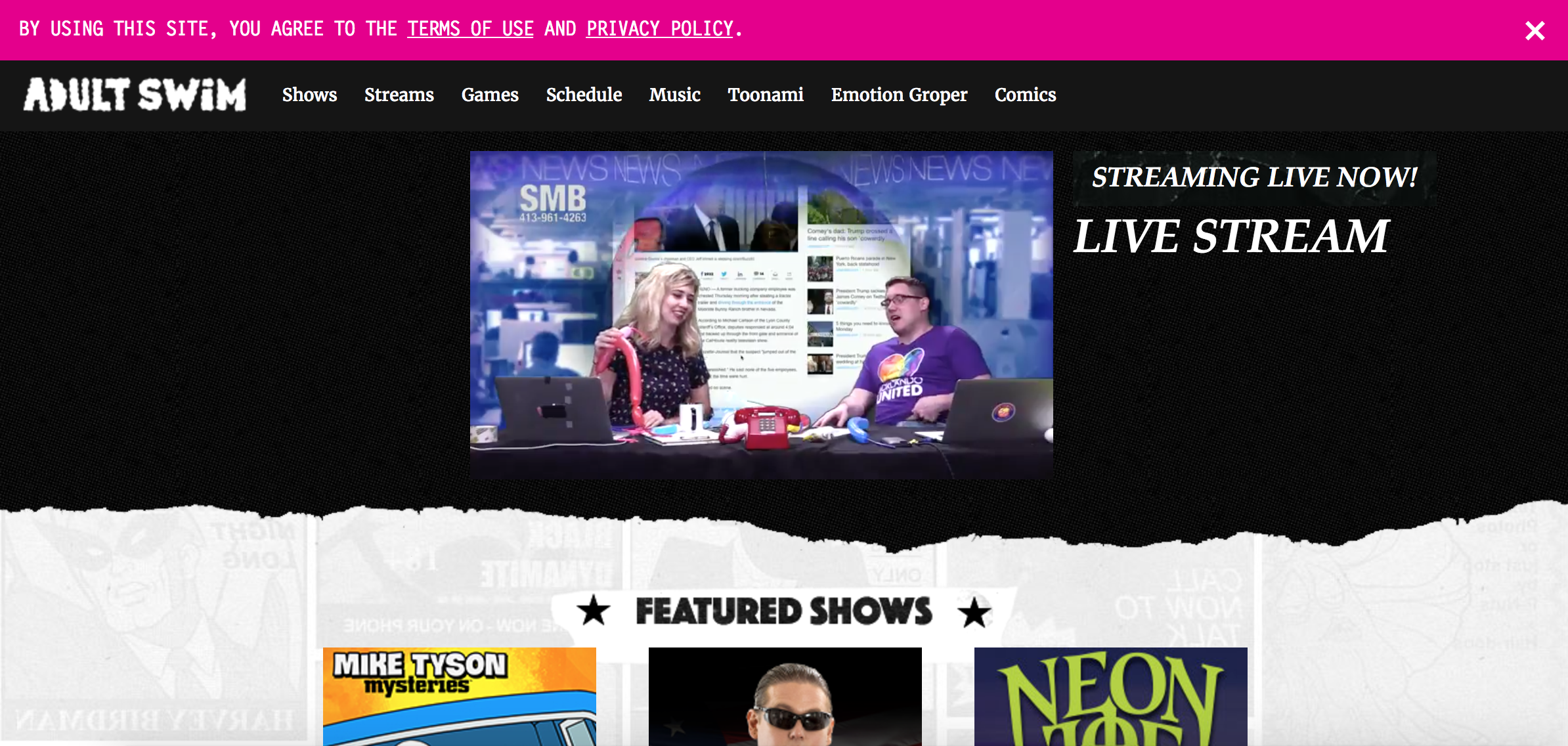 Only accessible in the U.S.
The Channels/Shows
This is a good website to get access to full episodes from all of Adult Swim's shows.  You won't be able to get whole seasons, but there are several free episodes for each show.  Other locked episodes require that you have a cable provider.  But you will be able to find episodes of Rick and Morty, The Boondocks, Samurai Jack, Ghost in the Shell, Bob's Burgers, Cowboy Bebop, Samurai Champloo, and Attack on Titan.  This might also  be one of the few, if not the only, places to find some of those particular shows for free.  For example, this is likely the place where most Rick and Morty fans are going to want to frequent.  You also might be able to catch some cartoon streaming if you select "streams" and then "marathons" on the lower menu.
The Pro's
It is an easy way to find the exact show you are looking for, if you're looking for a show that you know is on Adult Swim.  There are enough episodes to keep you occupied with your favorite cartoons.  Unlike the Cartoon Network Unlocked library of episodes (mentioned later in this list) this library at least allows a handful of consecutive free episodes, so that you aren't completely jumping around in the series.  Samurai Jack in particular has its whole fifth season available, for the time being.
Device Compatibility
It is compatible with any device that can access the website (it's not an app).  It can be watched on HDMI-compatible TV's.  There is an Adult Swim app available for free on iTunes as well.  The app is compatible with iOS 8.0 or later on the iPod Touch, iPad, and iPhone.
Reviews
Based on 9,317 ratings on all versions of the app, it received an average of 3 stars.  Some experienced technical difficulties with the app's functionality.  It's better to use the website if possible.
2. FunimationNow
Accessible in the U.S., Canada, U.K., and Ireland
The Channels/Shows
This is probably the streaming service you'll want to turn to for your anime needs.  It boasts over 400 anime shows in its collective library.  The only downside is that it is only partially free.  There are several free episodes available but after a certain point, for several shows, they do request that you subscribe to get locked episodes for more recent seasons.  Considering that their subscription is only $6 a month, it's not that much to ask in order to get full access to their library.
Still, with free episodes available for each of those 418 shows, that means there is much to appetize your anime palate with.  And sometimes you might find a show that has a whole season available for free.  One great show that offers its whole first season for free is Spice and Wolf.  You can also watch both season 1 and season 2 of Attack on Titan for free, save for one episode that isn't free for whatever reason.  Bear in mind that the free episodes also come with ads.  A subscription will remove those ads, however.
The Pros
It's difficult to find streaming services that offer whole seasons for free, that can also be found on this service with select shows.  It's one of the biggest anime collective libraries that can be found for legal streaming.  As a bonus, you also get the perks of HD streaming free.  Funimation is going to be focusing primarily on English dubs for a lot of its shows, which might be appealing for the fan that prefers not to read subtitles.
Device Compatibility
FunimationNow is compatible with Amazon FireTV and Roku via its app version through the app store on your device.  It is also available on AppleTV, iOS, Android, and Windows.  You can even find the app in the Playstation store or Xbox store.  This thing is basically available on nearly everything.  Understandably, with the anime market being the sort of niche that it is, they want to get as much exposure as possible.
Reviews:
If you read Amazon reviews, you'll find 79 reviews thus far on Funimation's service.  It gets 3 out of 5 stars on average.  Many people were happy with the site and many were complaining mostly about the app being quite buggy.  It seems to be common with streaming apps.  Several had login issues.  But for some, the app worked perfectly smoothly.  The website seems to function better than the app, overall.  I tested the website personally and am happy with the smooth play and over-abundance of available free shows.
3. Crunchyroll
Most content only available inside the U.S.  Limited/reduced content available for U.K., Australia, and all other countries.
The Channels/Shows
Like Funimation, Crunchyroll is also a service launched with the goal of bringing a large anime library to a broader audience.  Their deal is pretty similar to that of Funimation, except you will find more English subs rather than dubs on this service.  You will see many of the same hit shows that you can find on Funimation as well as ones you might not find, including the likes of Attack on Titan, Dragon Ball Super, Hunter X Hunter, Clockwork Planet, and Sword Art Online.  If you were to use this service in tandem with Funimation you would probably be able to view most anime shows you'd like to see, for free.  If you used both paid services you'd be able to likely see every production on the face of the planet.  Crunchyroll offers 950 shows total.
The Pros
You can find full seasons of several shows on here for free.  For some shows you will only get a sample clip and then they might ask you to subscribe to their premium account to receive the full video.  The paid service is cheap, $6.95 a month, if you're interested in it.  But you can also do a free trial of the paid service.  There are several viewing options even in free mode; you can choose between standard definition (SD), 480p, 720p, and 1080p.  Not only that, but you can get access to manga on Crunchyroll as well, if you're feeling like reading instead of watching.
Device Compatibility
Compatibility is pretty extensive.  They list compatibility with the Wii U, Chromecast, Xbox One, Xbox 360, Playstation 4, Playstation 3, Playstation Vita, Apple iOS, Anroid, Windows Phone, Apple TV, and Roku Box.  Also, you can access the website on a laptop or anything with access to internet webpages.
Reviews
PCMag gave a good review of the service, giving it 4 out of 5 stars.  The streaming was reported to be crisp and smooth. They also point out an unusual feature where you can click the "dice" button and start watching any anime series at random.  Might be an interesting way to discover a new show?  The reviews on the apple app version of Crunchyroll are generally positive.  Some complain about buffering times when fast-forwarding or rewinding.  Others felt that there were just a few too many commercial breaks, or that the search bar for finding shows isn't always effective.
4. Cartoon Network Unlocked
Only accessible within the U.S.
The Channels/Shows
This website only has Cartoon Network shows but considering that it's free, it's really worth noting that you can conveniently find all of Cartoon Network's shows all in one place.  This makes it more convenient than other options.  And some of these Cartoon Network shows you might not be able to find anywhere else for free.
The Pros
You won't be able to watch full seasons of shows, which might be disappointing for someone looking to binge-watch.  However, it might be difficult to find as handy an archive of current Cartoon Network shows elsewhere.  The shows include Cloudy with a Chance of Meatballs, Powerpuff Girls, and Steven Universe.  There are also several Adventure Time episodes in the archive.  And there are no less than 102 full episodes of various shows in the library.  It's well worth checking out.
Device Compatibility
This viewing method will be compatible with any device that has internet and if it is HDMI compatible, you should be able to hook it up to most current TV's with an HDMI port.  There is also, however, an app version that you can download for free on your android or Apple phone.  The app features occasional exclusive premieres that you can watch before it airs on TV, and several more episodes than the free unlocked library.  But the app does require a TV provider.  Therefore, the app isn't exactly "free".
Reviews
In the Google play store you will notice that the app has an average 4 star-rating based on 97,188 votes.  I'd like to reiterate that the downside to the free episodes is that many of them are not in a particular order.
5. Pluto TV
Some content only accessible in the U.S.  Users outside the United States will see fewer channels.
The Channels/Shows
Though this streaming service is likely a top contender for quality free TV, it is at the last of our list since it is limited in its spectrum of cartoons.  It features several great live channels, 75+ to be specific, but only three are noteworthy for cartoons.  The channels are titled "Anime All Day", "After School Cartoons", and "Classic Toons TV".  This is good news though if anyone happens to be a Bugs Bunny fan and is an aficionado of the earlier classical cartoons.  It's also good for anime fans.
The Pros
The service itself made many headlines from media outlets like Vice, The Verge, and VentureBeat.  Another nice feature is that you can create an account for customized viewing.  While the show is live, you are able to pause and rewind the program if you wish.  You can find anime and classical cartoons, if that's what your nerd self is into.  And if you happen to be a nerd, Pluto TV also offers a handful of nerd channels, such as "the Nerdist" and "IGN".  You'll notice most of its channels are internet channels rather than your usual Fox and ABC.  There is no sign-up required.
Device Compatibility
This streaming service really goes all out to be compatible with everything.  It will work on Roku, Amazon Fire TV, Apple TV, Chromecast, Android, iPhone, Android TV, Samsung, Vizio TV, Sony, Windows, Mac, and on the web.  They really pulled out all the stops.
Reviews
Several online video reviews gave this service a lot of praise.  Cnet reviews had a few more mixed results.  Some did seem to experience technical difficulties, in the 4 Cnet reviews available.  One YouTube reviewer claimed it does not work on the MXQ Pro or the T95M but really enjoyed the service once he got it on something that worked.  Many cord-cutters find it to be one of the best free TV services available.
Davan Hamilton • Editor
Davan Hamilton is an editor and writer based in Jacksonville, FL. Holding a degree in Interdisciplinary Studies, her writing spans a wide range, from essays on film criticism and analysis to surreal poetry. Now, she works for Flixed as an editor, continuing to ignore the list of passion projects she's accumulated. When she's not glued to her computer, you can find her building endless amounts of Lego sets, binge-reading manga, or playing with (fighting) her cat.