Between nibbling on leftover Halloween candy and stuffing our faces at Christmas, there's that Thanksgiving feast to tackle. While NFL football might fill the TV screen on Thursday, that leaves 3 other days to sit back and relax. And for anyone not working in retail, digesting on the sofa is better than facing the crowds on Black Friday. Here are the 20 best Thanksgiving movies on streaming services right now.
Thanksgiving movies – like the holiday – are usually about family. But a lot of family-focused films often get called "Thanksgiving movies," yet they have no connection to Turkey Day. We've ensured that each movie on our list has at least one sliver of a Thanksgiving scene. And our Turkey-meter rating lets you know just how big of a role the holiday plays.
Our top pick for streamer with the best Thanksgiving movies
Choosing the streaming service with the best Thanksgiving movies depends on what kind of movies you like. Most of these films fall somewhere on the drama-comedy spectrum, so we've grouped them into 5 genres: kids, drama, comedy-drama, comedy, and romantic comedy.
At the end, we tally up the movies to see which streamer has the most Thanksgiving movies and those that suit your tastes.
4 Thanksgiving movies for kids to stream
A Charlie Brown Thanksgiving (1973)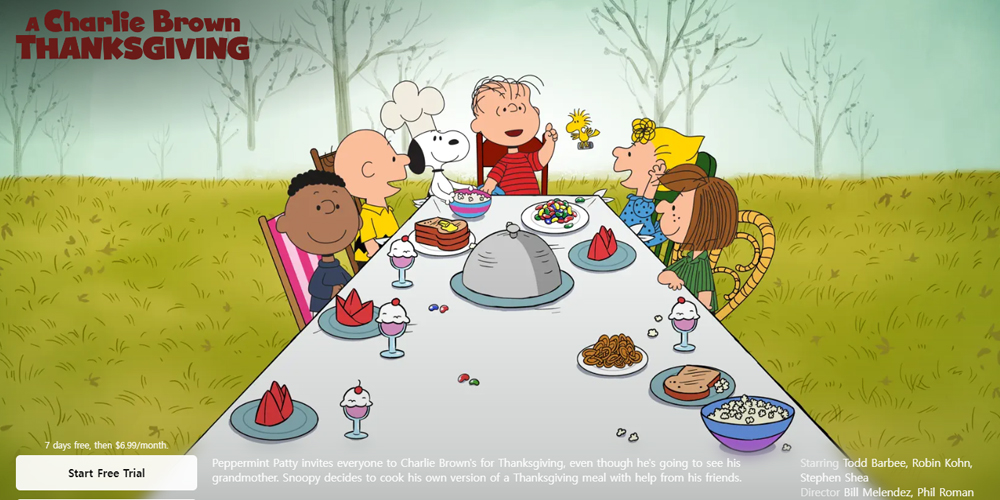 Alone for the holiday, Peppermint Patty invites herself and others to Charlie Brown's for a non-existent Thanksgiving dinner. With help from Linus, Snoopy and Woodstock, he puts together a last-minute feast before the family leaves for Grandma's.
From Christmas to Halloween to Thanksgiving, watching Charlie Brown holiday specials on TV have been an annual tradition for over 50 years. However, Apple bought the broadcast rights to all of the Peanuts specials in 2020 and you can no longer watch them on TV.
Fortunately, the folks at Apple recognize the importance of these specials and are providing free windows for non-subscribers. That means you can watch A Charlie Brown Thanksgiving for free November 23-27.
Humor for the kids, nostalgia for the grown-ups, it has a 7.7 on IMDb and hits 5/5 on our turkey-meter.
Stream A Charlie Brown Thanksgiving only on:
Garfield's Thanksgiving (1989)
During a visit to the vet, everyone's favorite lasagna-devouring feline gets put on a diet – the day before Thanksgiving. Meanwhile, Jon coerces the attractive vet into coming over for Thanksgiving dinner – which he has no idea how to cook.
With one quick phone call, it's Grandma to the rescue as she saves Thanksgiving dinner with a chainsaw and deep fryer.
The animated TV special clocks in at 24 minutes – short, simple and entertaining enough to keep young kids engaged the whole time. It's got 7.7 on IMDb and 5/5 on the turkey-meter.
Stream Garfield's Thanksgiving only on:
Addams Family Values (1993)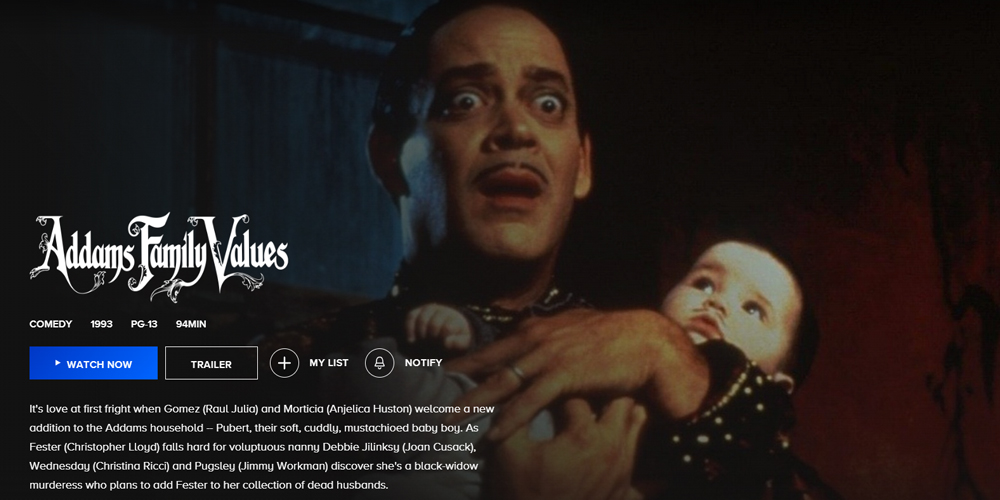 Gomez and Morticia are over the moon about their new baby – while Wednesday and Pugsley would prefer to launch their new sibling straight into it. But when Gomez hires a nanny to help out, the brother and sister have a new nemesis.
Before they can strike, the nanny ships them off to summer camp. For some reason, camp concludes with a (wildly offensive) Thanksgiving play – which Wednesday duly hijacks.
Best for tweens and up, it's got 6.8 on IMDb and scores 2/5 on the turkey-meter.
Stream Addams Family Values on:
Free Birds (2013)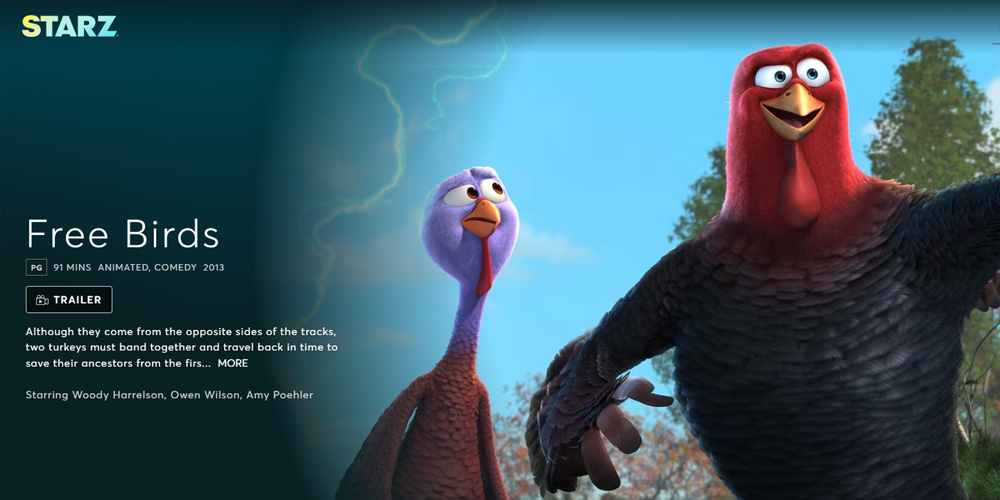 In this computer-animated sci-fi comedy, a turkey named Reggie receives a presidential pardon instead of becoming Thanksgiving dinner. However, he's soon abducted by an operative for the Turkey Freedom Front, with whom he travels back in time to scratch turkeys off the menu for the first Thanksgiving.
It's only got 5.8 on IMDb, but we'd wager most of those votes are from adults – not exactly the target market for this silly Thanksgiving romp. It gets 4/5 on the turkey-meter.
Stream Free Birds only on:
3 Thanksgiving dramas to stream
The Ice Storm (1997)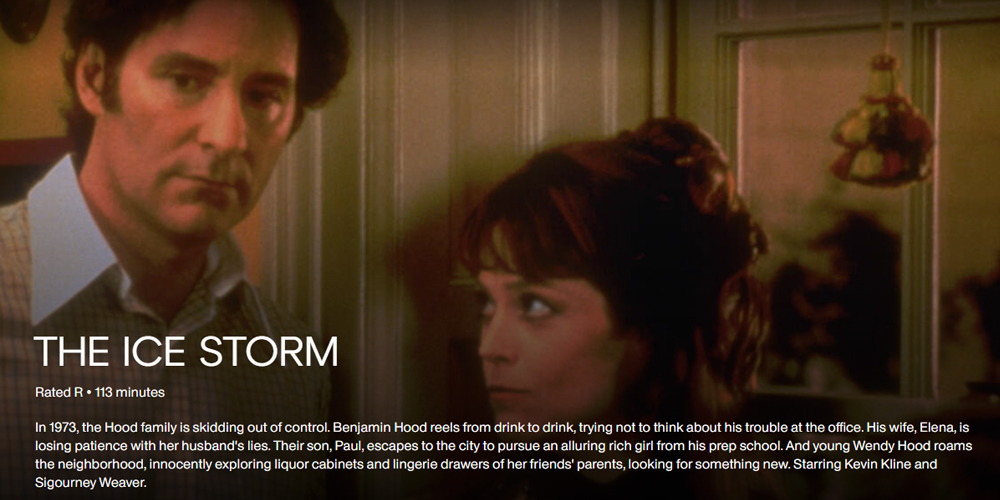 With an all-star cast and directed by Ang Lee, The Ice Storm takes place during Thanksgiving weekend in 1973. Set in suburban Connecticut, it follows the lives of upper-middle-class families as they deal with everything from adultery to swingers parties, substance abuse, and teenage promiscuity.
As you can probably imagine, this family drama isn't one for the kids to watch. The critically acclaimed, award-winning film has 7.4 on IMDb and scores 3/5 on the turkey-meter.
Stream The Ice Storm on:
The Blind Side (2009)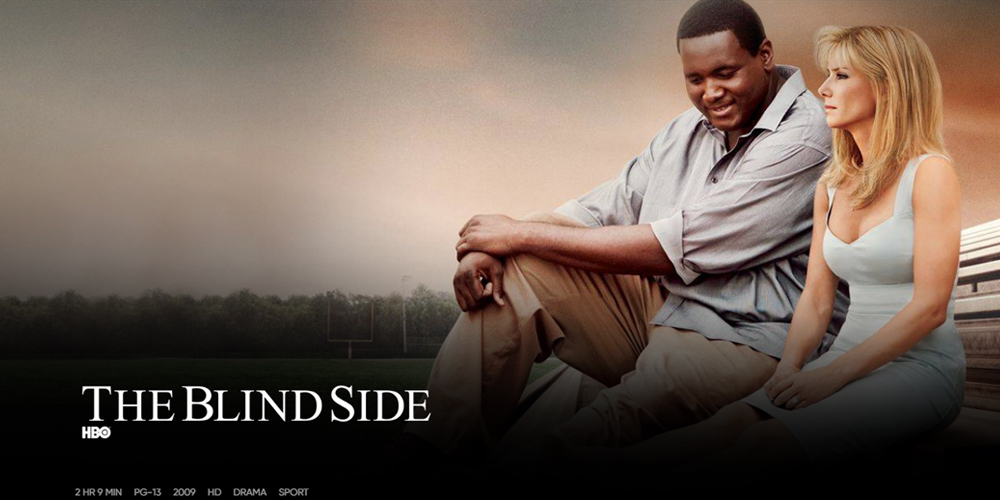 The Blind Side is based on the early life of NFL offensive lineman, Michael Oher. With a dad in prison and drug-addicted mom, Oher spent his childhood either homeless or in foster care. Until he's invited to live with, and eventually adopted by, a well-off couple whose 2 kids went to school with him.
The movie has just one Thanksgiving scene – complete with NFL football on the TV – but it's one of the most touching in a film packed with touching moments. It's full of positive messages and one that parents can enjoy with tweens and older.
Nominated for the Best Picture Oscar, and netting Sandra Bullock an Oscar for Best Actress, it has 7.6 on IMDb. However, with under 3 minutes of Thanksgiving time, it only manages 1/5 on the turkey-meter.
Stream Movie on:
Krisha (2015)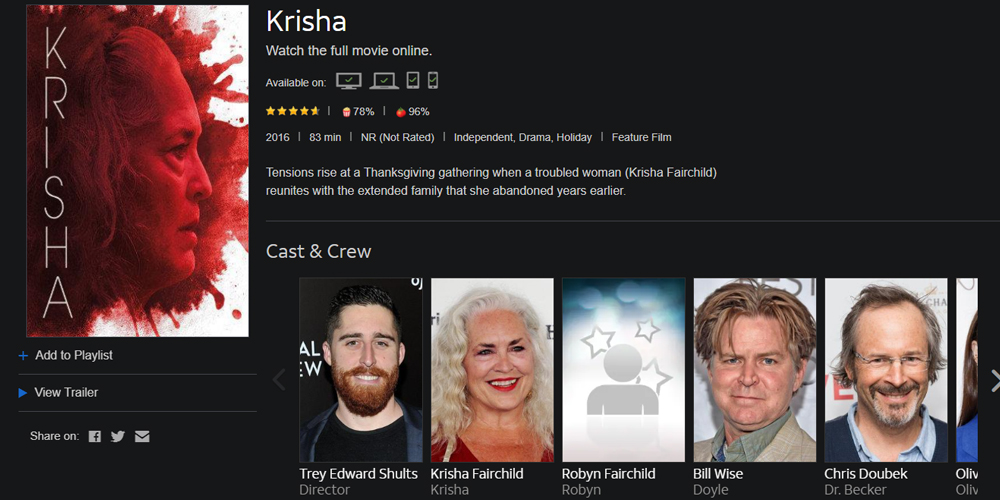 The directorial debut of Trey Edward Shults is titled after, and stars, his real-life aunt. After years estranged from her family, a recovering addict in her sixties returns to cook Thanksgiving dinner at her sister's house.
Filmed in Shults' mother's house, with a cast including family members and friends, the Thanksgiving Day reunion captures the playful chaos that so often accompanies the holiday.
With a few dozen f-bombs and other strong language, substance abuse and mild sexual dialogue, it's probably best to watch when the kids are in bed. The award-winning film has 7.1 on IMDb and hits 5/5 on the turkey-meter.
Stream Krisha on:
4 Thanksgiving comedy-dramas to stream
The Big Chill (1983)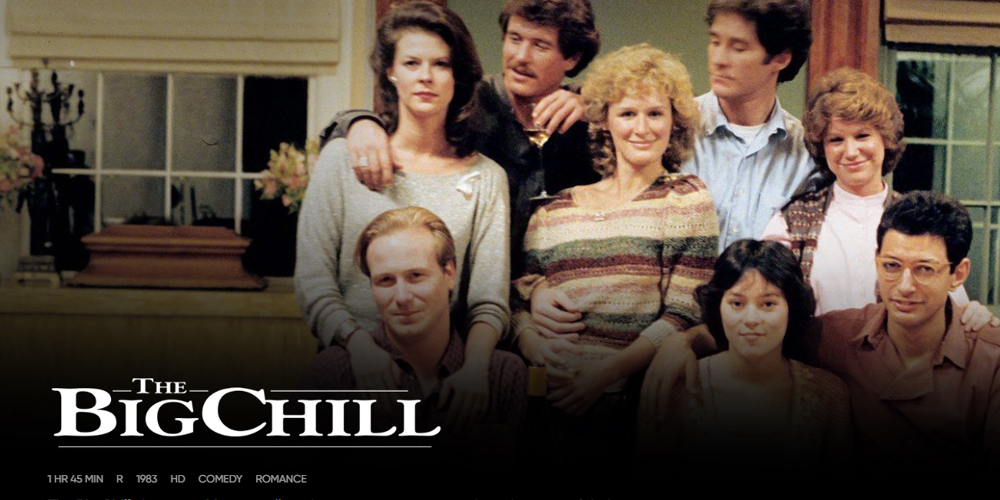 After one of them commits suicide, a once tight-knit group of college friends reunite in their 30s for a weekend at a country home.
The Big Chill is one of the most iconic films of the 80s. The first scene that was filmed – a Thanksgiving flashback that appeared in the original theatrical previews – became a thing of Hollywood lore. For it was left on the cutting room floor.
With mature themes from sex to suicide, brief nudity, drugs and alcohol, and a bit of profanity, The Big Chill is still fine for teens – but it might bore them.
Nominated for the Best Picture Oscar, it has 7.1 on IMDb. There's still a turkey dinner around a big table full of friends and college football on the TV, but without mention of "Thanksgiving", it ranks 1/5 on the turkey-meter.
Stream The Big Chill on:
To stream The Big Chill with Sling TV, fuboTV or DirecTV Stream, just use your account credentials to sign in to Turner Classic Movies. (Sling TV subscribers need the Hollywood Extra add-on to get TCM.)
Pieces of April (2003)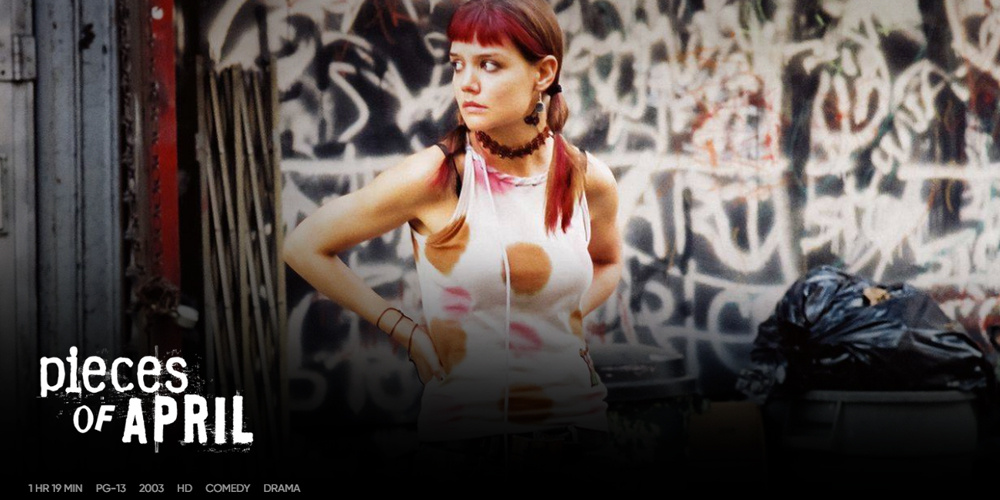 With her mother dying of cancer, former problem child April invites her estranged family out from the suburbs to her low-rent Manhattan apartment for Thanksgiving dinner.
There's a bit of strong language and an almost-off-camera-fully-clothed implied sex scene, but tweens can watch this one – and they'll probably enjoy it!
Patricia Clarkson got an Oscar nod for Best Supporting Actress and the movie has 7.0 on IMDb. Revolving around April's struggles to put together a Thanksgiving dinner – and reconnect with her family – it scores 5/5 on the turkey-meter.
Stream Pieces of April on:
Funny People (2009)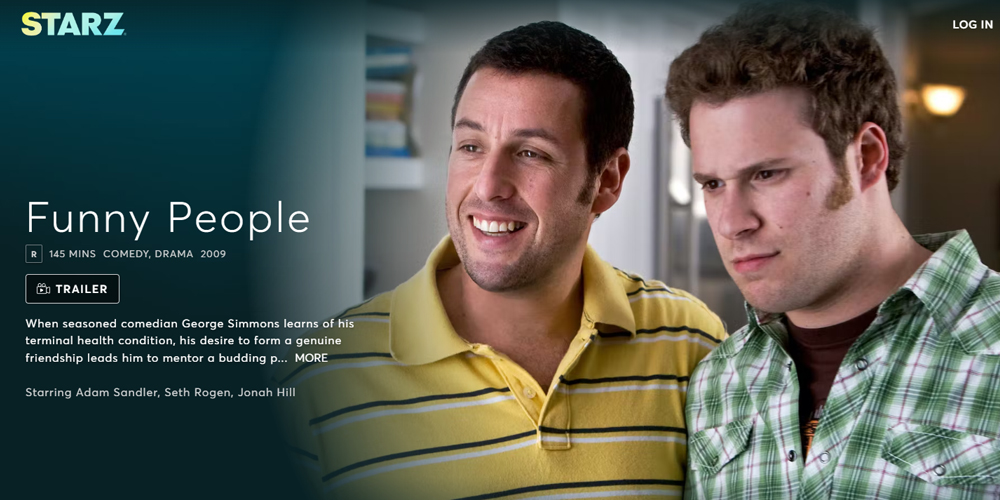 Death is a running theme, and this is another Thanksgiving movie about a terminal illness. Adam Sandler stars as George, a comedian-turned-movie-star diagnosed with leukemia. Without long to live, he returns to his roots – stand-up comedy – and takes a struggling comic under his wing.
At a Thanksgiving dinner with much younger friends from the comedy circuit, George gives a touching toast about aging, friendship and the importance of appreciating each moment life gives us.
Funny People is loaded with coarse language and crude jokes, but the positive messages balance things out. It's still probably best kept for older teens to watch.
The movie holds 6.3 on IMDb. The Thanksgiving scene is short in a movie that's 2½ hours long, but it's a great toast and the quintessential themes of the holiday run throughout the film. So it gets 3/5 on the turkey-meter.
Stream Funny People on:
Friendsgiving (2020)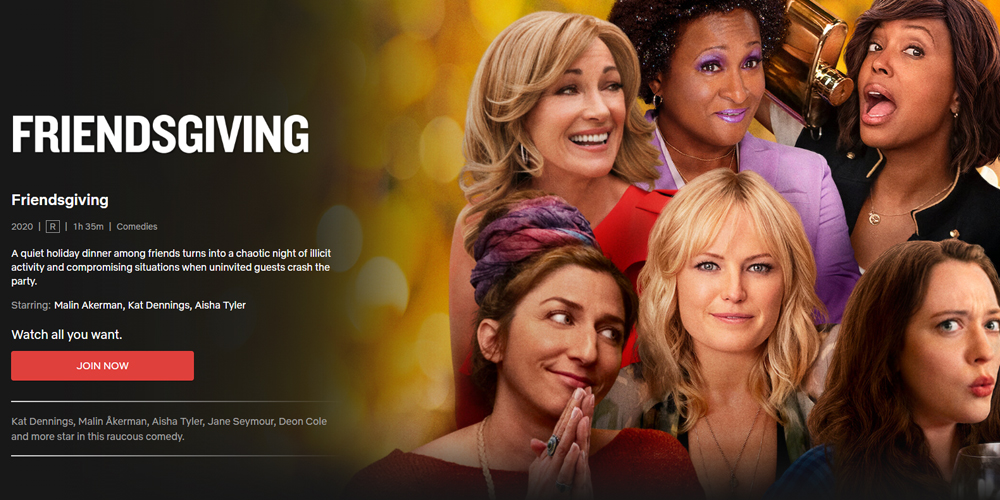 New mom Molly is going through a divorce, and recently out lesbian Abby is getting over being dumped by her first girlfriend. But when the 2 best friends decided to have a quiet Thanksgiving together, it snowballs into a bustling party of friends, strangers, and even family.
There's lots of crude sexual humor, very strong language, and booze and drugs, but this raunchy comedy-drama also has strong, positive messages about female friendship and family. Definitely one for older teens.
It may only command 4.4 on IMDb, but if you're in the mood for an undemanding yet touching drama with some laughs, kick back and enjoy it. We give it 5/5 on the turkey-meter.
Stream Friendsgiving only on:
5 Thanksgiving comedies to stream
Planes, Trains and Automobiles (1987)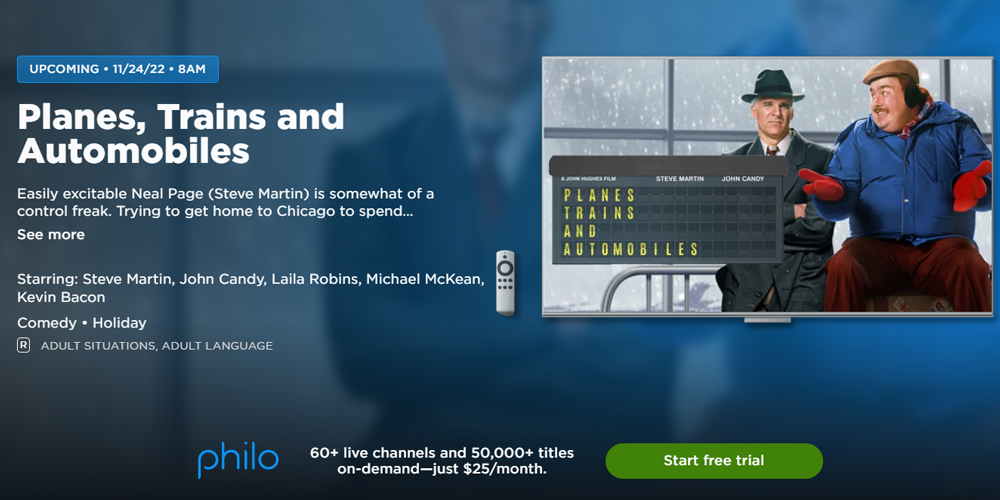 John Candy and Steve Martin star as an ad-hoc "odd couple" who are thrust together by chance 3 days before Thanksgiving. When a blizzard routes the flight they're on, the 2 men embark on a multi-transport-method journey in the hopes of making it back in time for Thanksgiving dinner.
It's got a few f-bombs, but it's fine for tweens and up. This hilarious yet touching comedy is one the whole family can watch together – and make it a Thanksgiving tradition.
It's got 7.6 on IMDb and we give it 3/5 on the turkey-meter, as it's more about traveling during the holidays than the holiday itself.
Stream Planes, Trains and Automobiles on:
For Your Consideration (2006)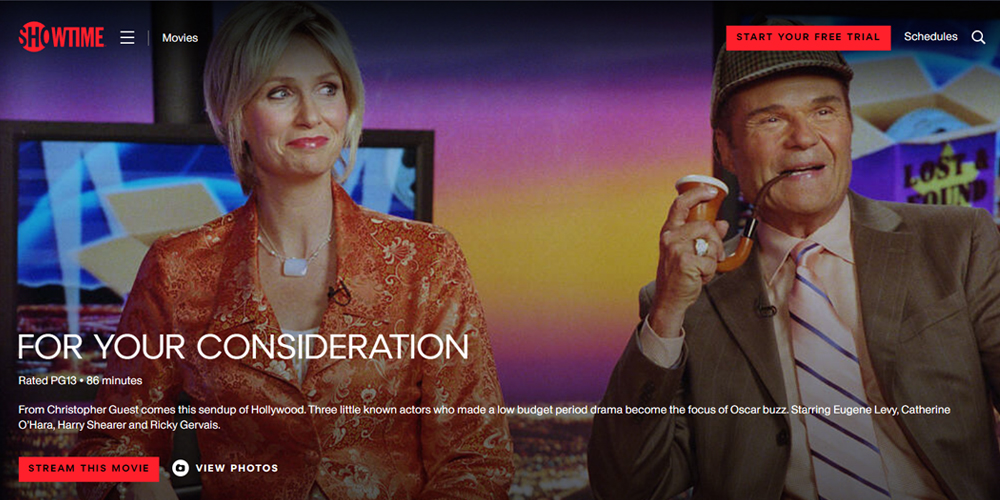 When a blog creates (unwarranted) Oscar buzz about the movie they're filming, the D-list cast of a low-budget independent film lets the fiction go to their heads. Also reacting to the buzz, the director changes the film's title from Home for Purim to Home for Thanksgiving, in order to appeal to a wider audience.
While not filmed in Christopher Guest's typical mockumentary style, the film's dialogue is mostly improvised and there are a lot of familiar faces from his earlier films.
With a bit of strong language (but only 1 f-bomb), it's fine for kids, though intended for adults.
It has 6.3 on IMDb and pulls in just 1/5 on the turkey-meter.
Stream For Your Consideration on:
Paul Blart: Mall Cop (2009)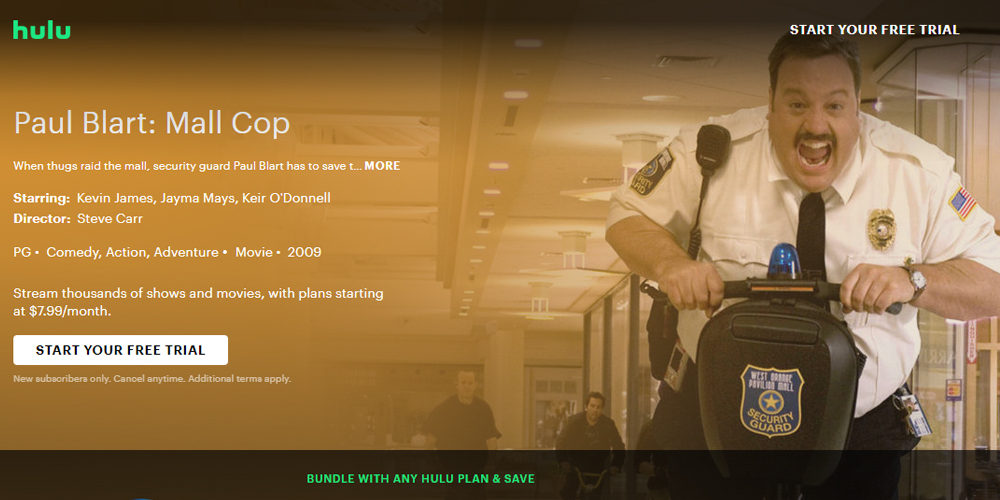 An overweight, over-enthusiastic mall security guard is forced to conjure his inner John McClane and go "Die Hard" when a gang of criminals puts his mall under siege.
Aside from some mild cursing and insults about weight, it's fine for all ages. Parents might roll their eyes, but the slapstick comedy is sure to get some laughs from older tweens.
It's got a brief Thanksgiving Day dinner scene, but most of the story occurs the day after, on that retail nightmare called Black Friday.
It's got 5.2 on IMDb and scores 2/5 on the turkey-meter.
Stream Paul Blart: Mall Cop only on:
Tower Heist (2011)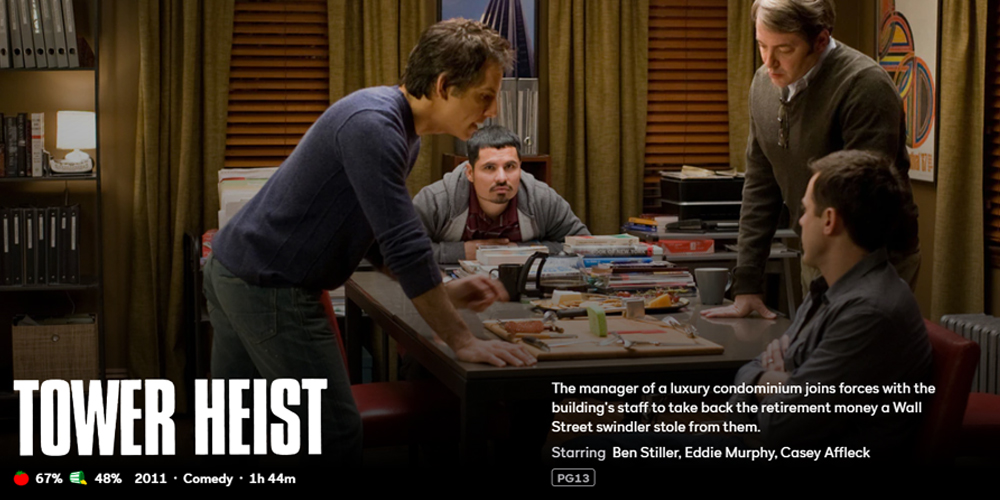 A financier accused of embezzling $2 billion is under house arrest in his luxury apartment. And his victims include the pension fund of the staff working there. The building manager, concierge and elevator operator plan a heist to get even. They just need one more piece – someone who knows what they're doing.
There are some sex jokes, a fair bit of strong language (but no f-bombs), and Eddie Murphy drops the N-word a couple of times. It's fine for teens, who seem like the target market.
It's got 6.2 on IMDb and scores 1/5 on the turkey-meter, as the heist takes place during the Macy's Thanksgiving Day Parade.
Stream Tower Heist only on:
The Turkey Bowl (2019)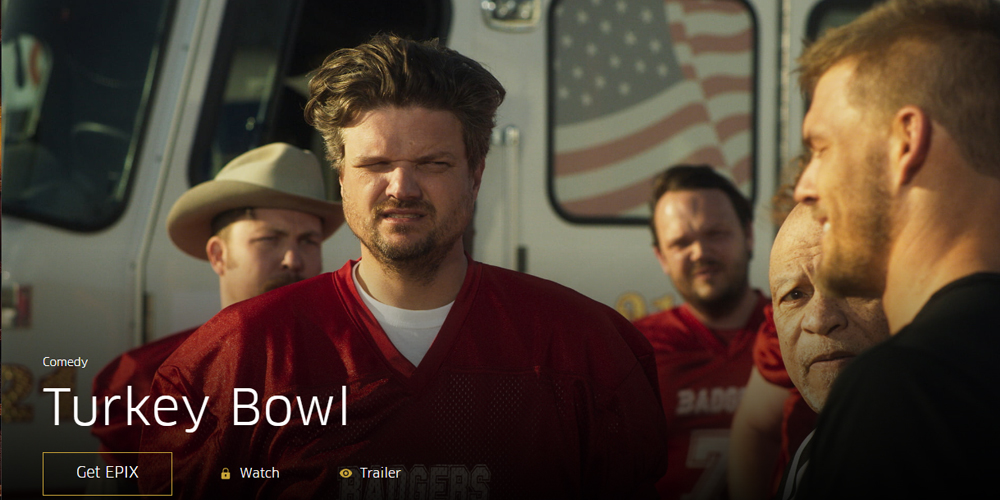 A thirtysomething Chicago businessman returns to his rural hometown to attend the Thanksgiving weekend funeral of his high school friend. But he finds his friend alive, and it was just a ploy to get him there to quarterback The Turkey Bowl – an unfinished football game that got snowed out 15 years earlier.
With crude humor and strong language throughout, this silly sports comedy is only for older teens – and maybe not even parents.
It's got 5.4 on IMDb (but a 90% audience score on Rotten Tomatoes!) and scores 3/5 on the turkey-meter.
Stream The Turkey Bowl on:
4 Thanksgiving rom-coms to stream
Grumpy Old Men (1993)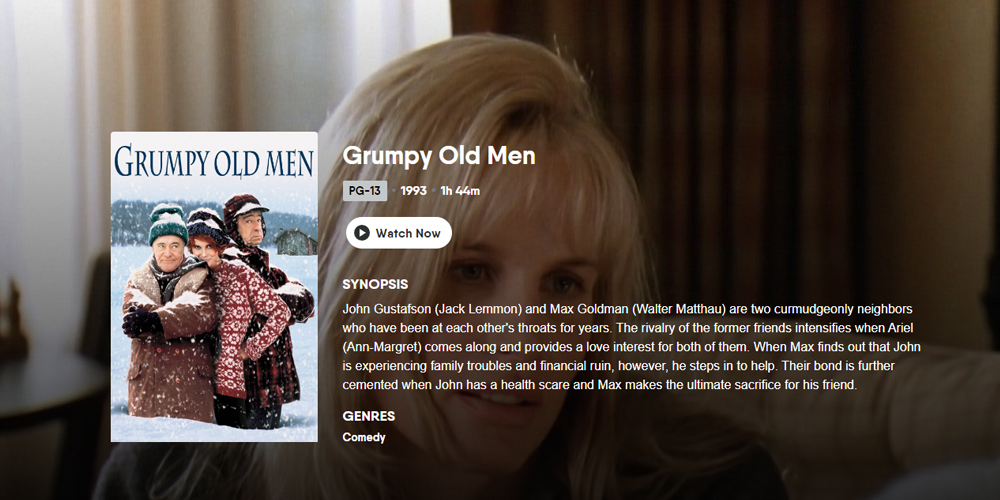 Comedy legends Jack Lemmon and Walter Matthau star as retired neighbors who've been feuding for 40 years. After a mutual friend spends Thanksgiving with their attractive new neighbor across the street, they both vie for her affection – and the feud reaches a whole new level.
With adult themes, there's some mild swearing and a lot of insults – hence the film's title. It's fine for young teens, but not many will be interested in a rom-com about senior citizens.
It's got 7.0 on IMDb and scores 3/5 on the turkey-meter.
Stream Grumpy Old Men on:
You've Got Mail (1998)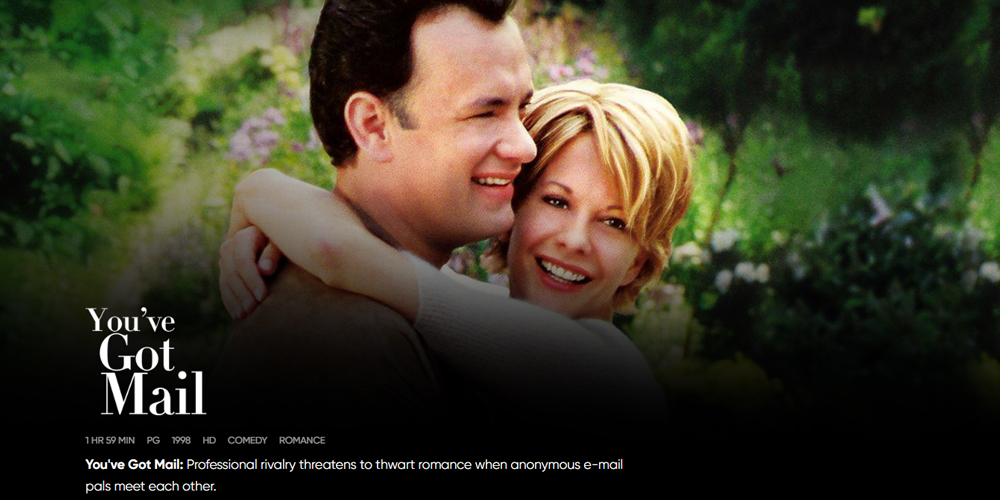 A bookstore chain's new megastore threatens to put a small, independent children's bookshop out of business. By a stroke of serendipity, the owners of each meet in an anonymous chat room and strike up an online romance.
The Thanksgiving scene mostly takes place in a supermarket, but there is an autumn festival, complete with a turkey photo stand-in, that captures the vibe of the season.
This is fine for tweens and older. But while Teens might get a good chuckle out of the dial-up internet and AOL chat rooms, it feels rather dated.
It's got 6.7 on IMDb and scores 1/5 on the turkey-meter.
Stream You've Got Mail on:
Stuck in Love (2012)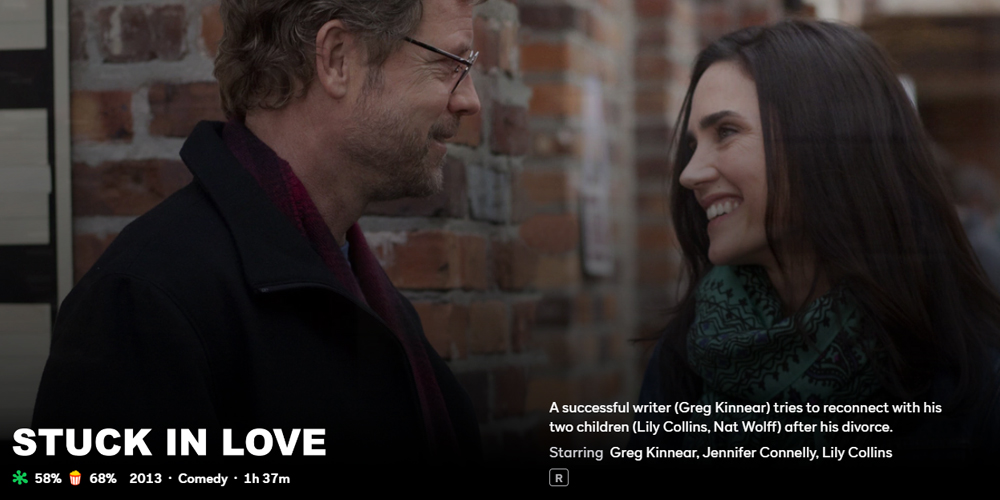 While trying to reconnect with his teenage children, an acclaimed novelist would rather spend time spying on his ex-wife than working on his next book. It revolves around yet another dysfunctional family – just like most great holiday films.
The movie takes place over the course of a year, starting and ending on Thanksgiving.
With strong language throughout, and some teen drinking and drug use, this complex family film is good to watch with older teens.
It's got 7.2 on IMDb and scores 3/5 on the turkey-meter.
Stream Stuck in Love on:
Holidate (2020)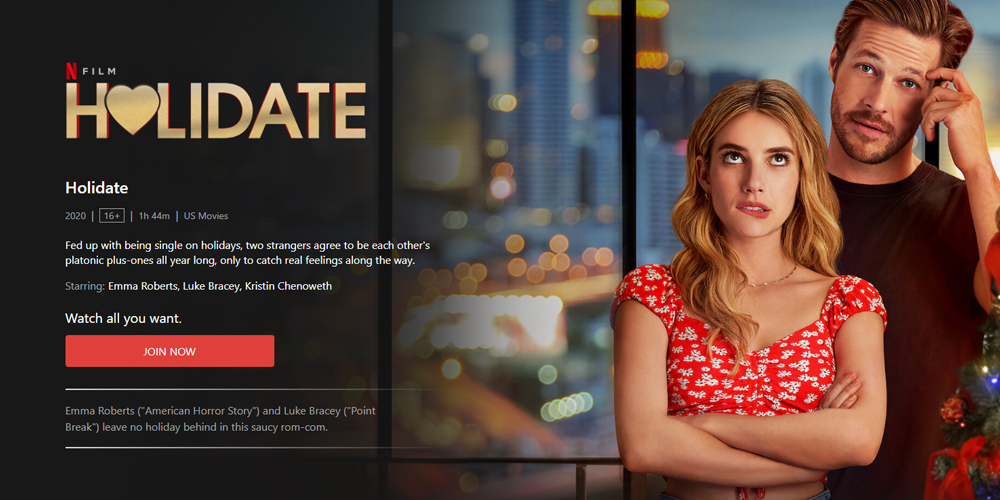 Fed up with questions about their singlehood at family gatherings, a woman and man agree to be each other's dates for a full year of events. So it can also be a Christmas, St. Patrick's Day, 4th of July and Halloween movie.
The Thanksgiving scene clocks in for around 10 minutes and has some pivotal moments.
While there's no nudity, there's graphic talk about sex and strong language throughout, making this one for older teens.
It's got 6.1 on IMDb and scores 2/5 on the turkey-meter.
Stream Holidate only on:
What if my favorite Thanksgiving movie isn't listed?
Not all movies are available to stream, but some can be rented online. For example, if you're looking to watch Scent of a Woman or The House of Yes, you can rent them through Amazon Prime Video, Google Play and others.
Other popular Thanksgiving movies, like Dutch and The War at Home, require going old school by getting the Blu-ray or DVD.
Our takeaway: DirecTV Stream has the most Thanksgiving movies
With 6 titles on our list, DirecTV Stream has the most Thanksgiving movies out of the 20 streaming services we looked at. DirecTV Stream has:
The Ice Storm

Krisha

The Big Chill

Funny People

For Your Consideration

The Turkey Bowl
However, our runner-up streamer with 5 Thanksgiving movies is Showtime. And when we tally the turkey-meter points, Showtime beats DirecTV Stream 17 to 16 in overall turkey points. It stuffs more holiday spirit into fewer movies:
The Ice Storm

Krisha

Pieces of April

For Your Consideration

Grumpy old Men
If you're in the mood for rom-coms, 3rd-place fuboTV offers 2 from the genre plus 2 others.
Grumpy Old Men

You've Got Mail

The Ice Storm

For Your Consideration
If it's comedy-dramas you're looking for, consider HBO Max. It tied for 3rd place and, like fuboTV, scored 8 total turkeys.
The Big Chill

Piece of April

The Blind Side

You've Got Mail
With Christmas hot on the heels of Thanksgiving, be sure to check out the 25 Best Christmas Movies to Stream and start planning your holiday viewing.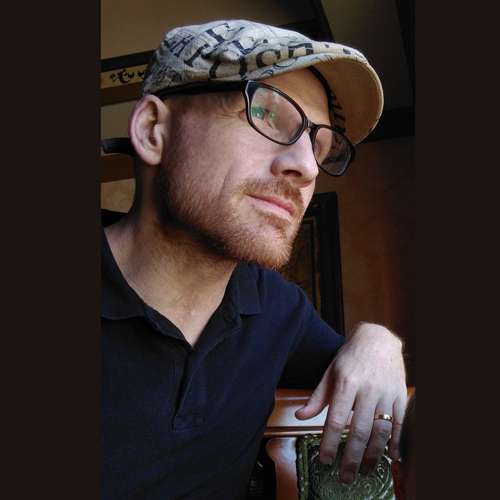 Douglas Wright
Douglas Wright is a freelance writer based in Japan. A former web designer and technical writer, he left beautiful Vancouver for bustling Tokyo, where he spent a decade recruiting for software and high-tech firms. No longer commuting through the world's busiest train station, he writes fiction and a wide range of formats for clients around the world. When he gets AFK, he's either outdoors with his two boys, streaming a show with his wife, or reading a book over a French-pressed, hand-ground coffee.