How to Watch Hell's Kitchen Live Without Cable, 2021
Episode 16
of season 19
aired on

April 22, 2021
.
Stream all episodes from season 19 online or on your devices with Sling TV or one of the other cord-cutting options listed below
.
Watch Season 19 of Hell's Kitchen, Live
Watch Hell's Kitchen on Sling TV
If you're looking for the cheapest option to watch Hell's Kitchen live, then
Sling TV
is your best bet at $20 per month. With over 50 channels of top news, live sports, and more, Sling TV is one of the most affordable cable TV replacement services.
Click the link below to sign up for
Sling TV
start watching Hell's Kitchen today.

Sling TV
Subscription

Watch Hell's Kitchen on Hulu Live TV
If you're willing to spend a little more
Hulu Live TV
is a great option at $54.99 per month. Hulu Live TV is a well-rounded streaming service that includes 64 other national and local channels including ESPN, Discovery, A&E, ABC, History and more. Whether it's sports or local programming, Hulu offers a great balance between affordability and convenience.
Sign up below to try
Hulu Live TV
risk free for 7 days.

Hulu Live TV
Subscription
$54.99 / month
7-day free-trial

Watch Hell's Kitchen on AT&T TV Now
A third option to watch Hell's Kitchen is
AT&T TV Now
at $55 per month. AT&T TV Now offers a large selection of live TV channels, including Comedy Central, BET, MTV, VH1, Nickelodean and more at a very competitive price.
Click the link below to sign up for
AT&T TV Now
start watching Hell's Kitchen today.

AT&T TV Now
Subscription

Watch Season 19 of Hell's Kitchen, On-Demand
Watch Hell's Kitchen on Hulu
If you're ok with watching Hell's Kitchen after it airs,
Hulu
is a cheaper option at a low monthly price of $5.99. With one of the largest streaming libraries, including full seasons of exclusive series, current-season episodes, hit movies, Hulu Originals, and kid shows, Hulu is a great choice for a low monthly price.
Sign up below to try
Hulu
risk free for 30 days.

Hulu
Subscription
$5.99 / month
30-day free-trial

Other Services to Watch Hell's Kitchen
If the above options don't suit you, check out these other services ordered from cheapest to most expensive.

fuboTV
Subscription
$59.99 / month
7-day free-trial

Youtube TV
Subscription
$64.99 / month
7-day free-trial
Google Play
On Demand
Amazon Prime
On Demand
Watch Other Seasons
Check out all of our guides to watch other seasons of Hell's Kitchen.
Overview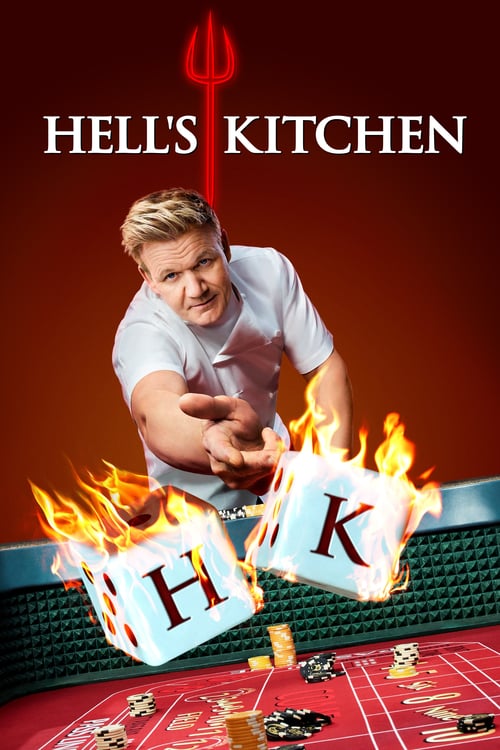 Synopsis
Aspiring restaurateurs brave Ramsay and his fiery command of the kitchen as he puts the competitors through an intense culinary academy to prove they possess the right combination of ingredients to win a life-changing grand prize.
Cast
21 shows like Hell's Kitchen
If you like Hell's Kitchen then you might like MasterChef, Kitchen Nightmares and Hotel Hell. Here's a list of 21 shows like Hell's Kitchen.
This hit cooking competition series sees award-winning chef Gordon Ramsay and other celebrity chefs put a group of contestants through a series of challenges and elimination rounds, in order to turn one home cook into a culinary master.
Chef Ramsay attempts to do the impossible: turn one ordinary and empty restaurant into the most popular, sought-after venue in town. There's no time for polite small talk as he embarks on his mission to turn around the fortunes of each restaurant in just one week and save them from their living nightmares.
Chef Gordon Ramsay, along with a team of hospitality experts, travels the country applying his high standards to struggling hotels, motels, and bed and breakfasts in an effort to get the owners and staff to turn their establishments around. Ramsay's signature no-holds-barred style will make it clear to those he coaches that there is no place for dirty rooms or incompetent staff if one hopes to remain in business.
Sick, twisted, politically incorrect and Freakin' Sweet animated series featuring the adventures of the dysfunctional Griffin family. Bumbling Peter and long-suffering Lois have three kids. Stewie (a brilliant but sadistic baby bent on killing his mother and taking over the world), Meg (the oldest, and is the most unpopular girl in town) and Chris (the middle kid, he's not very bright but has a passion for movies). The final member of the family is Brian - a talking dog and much more than a pet, he keeps Stewie in check whilst sipping Martinis and sorting through his own life issues.
A stand-up comedian and his three offbeat friends weather the pitfalls and payoffs of life in New York City in the '90s. It's a show about nothing.
The everyday lives of office employees in the Scranton, Pennsylvania branch of the fictional Dunder Mifflin Paper Company.
Follows the misadventures of four irreverent grade-schoolers in the quiet, dysfunctional town of South Park, Colorado.
24
(Action & Adventure, Drama)
24 is an American television series produced for the Fox network and syndicated worldwide, starring Kiefer Sutherland as Counter Terrorist Unit agent Jack Bauer. Each 24-episode season covers 24 hours in the life of Bauer, using the real time method of narration.
Quantum Leap
(Sci-Fi & Fantasy, Action & Adventure, Drama)
Theorizing that one could time travel within his own lifetime, Dr. Sam Beckett stepped into the Quantum Leap accelerator and vanished... He woke to find himself trapped in the past, facing mirror images that were not his own and driven by an unknown force to change history for the better. His only guide on this journey is Al, an observer from his own time, who appears in the form of a hologram that only Sam can see and hear. And so Dr. Beckett finds himself leaping from life to life, striving to put right what once went wrong and hoping each time that his next leap will be the leap home.
American version of the culinary competition series that gives talented kids between the ages of 8 and 13 the chance to showcase their culinary abilities and passion for food through a series of delicious challenges. Celebrated food experts coach and encourage the promising hopefuls to cook like pros and teach them the tricks of the trade along the way.
Ramsay's Kitchen Nightmares is a television programme featuring British celebrity chef Gordon Ramsay. The BAFTA and Emmy Award-winning programme debuted on Channel 4 in 2004. In each episode, Ramsay visits a failing restaurant and acts as a troubleshooter to help improve the establishment in just one week. Ramsay revisits the restaurant a few months later to see how business has fared in his absence. Episodes from series one and two have been re-edited with additional new material as Ramsay's Kitchen Nightmares Revisited; they featured Ramsay checking up on restaurants a year or more after he attended to them. In October 2009 Ramsay announced that after his four-year contract expired in 2011 he would not continue with Kitchen Nightmares and would instead work on his other shows.
Each year, hopeful singers from all over the country audition to be part of one of the biggest shows in American television history. Who will become the new American Idol?
When CIA analyst Jack Ryan stumbles upon a suspicious series of bank transfers his search for answers pulls him from the safety of his desk job and catapults him into a deadly game of cat and mouse throughout Europe and the Middle East, with a rising terrorist figurehead preparing for a massive attack against the US and her allies.
Go inside the colorful world of the pawn business. At the Gold & Silver Pawn Shop on the outskirts of Las Vegas, generations of the Harrison family run the family business, and there's clashing and camaraderie every step of the way.
The coming of age events and everyday life-lessons of Cory Matthews, a Philadelphian who grows up from a young boy to a married man.
Heroes
(Sci-Fi & Fantasy, Drama)
Common people discover that they have super powers. Their lives intertwine as a devastating event must be prevented.
Follow the lives of a group of students at what is possibly the world's worst community college in the fictional locale of Greendale, Colorado.
Documentary-style sitcom set in the offices of a Slough paper merchant.
Set in the charming town of Stars Hollow, Connecticut, the series follows the captivating lives of Lorelai and Rory Gilmore, a mother/daughter pair who have a relationship most people only dream of.
A hedonistic jingle writer's free-wheeling life comes to an abrupt halt when his brother and 10-year-old nephew move into his beach-front house.
Gordon Ramsay drives to struggling restaurants across the country in his state-of-the-art mobile kitchen and command center, Hell On Wheels, and tries to bring them back from the brink of disaster – all in just 24 hours.